Help Monroe County Children Thrive by Five
Since 2009, the Community Foundation has invested more than $1.4 million to support high-quality, early learning in Monroe County. The Community Foundation of Bloomington and Monroe County has launched the Thrive by Five endowment campaign to grow our community's capacity to serve more children.
You can help make high-quality early childhood education a reality for more children in Monroe County. With a goal of $1 million, funding will be used to sustain and support Monroe Smart Start's early learning initiatives.
Make a gift to give our children the tools they need to succeed in school and in life!
With a generous $100,000 gift, Elliot Lewis and his family have established the Lewis Fund for Early Childhood Education, the official endowment of the Thrive by Five Campaign. Gifts to this fund will be invested by the Community Foundation, so they grow over time. Each year, a percentage will be distributed to support Monroe Smart Start initiatives. Your gift to the Lewis Fund endowment will support the needs of young learners today, tomorrow, and forever.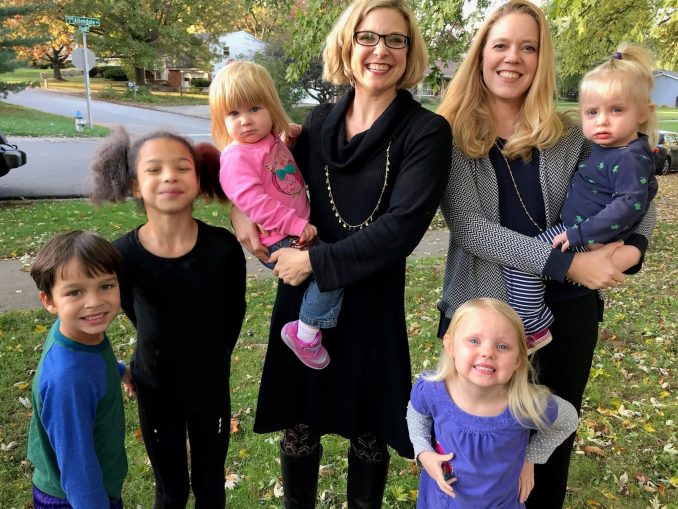 Campaign Co-Chairs
Thrive By Five Campaign co-chairs, Jessika Hane and Jessica Merkel, are leading the charge to invite the Monroe County community to join together so every child enters kindergarten prepared for school and prepared for life.
"As working moms, we depend on these programs. If childcare is so necessary for us, I can only think of how critical it is for families struggling to make ends meet. The affordability and reliability of childcare can determine whether a parent keeps a job, makes a rent payment, has food for their family or can fill a prescription. It is invaluable to have quality, affordable childcare in our community. It not only improves the lives of our children but their entire family as well."
-Jessica Merkel, Co-Chair of the Thrive by Five Campaign

Campaign Cabinet
Thank you to all of these Monroe County early learning leaders for working with us to ensure every child can thrive by five!
Jessika Hane, Oliver Winery, Co-Chair
Jessica Merkel, Bunger & Robertson, Co-Chair
Alisa Hendrix, Community Advocate
Dr. Jim Laughlin, IU Health
Liz McCrea, Retired Indiana University
Laurie Burns McRobbie, Indiana University
Dan Peterson, Cook Medical
Kevin Theile, T.I.S., Inc.
Jennie Vaughan, Ivy Tech Community College
Early Learning Endowment Funds
Our investment in young children would not be possible without the generosity of those in our community. Monroe Smart Start's early childhood initiatives are made possible each year thanks to generous donors who have established funds to benefit children and learning:
Annie Allen Fund for Thriving Parents, Babies and Toddlers – Founded by Georg'ann Cattelona
Carolee A. Mehlinger Fund for Children and Youth – Founded by Howard Mehlinger
Early Childhood Education Fund – Founded by MaryFrances McCourt
Geraldine Newton Jones Fund – Founded by Frank N. Young, III, and Sarah Jones
Lewis Fund for Early Childhood Education – Founded by Elliot Lewis and Family
Linda Simon and David Sabbagh Fund for Early Childhood Education – Founded by Linda Simon and David Sabbagh
Monroe County Children Matter Fund – Founded by the Lilly Endowment
Our Children, Our Future Fund
Ray & Marcie Tichenor Fund for Education and Health – Founded by Ray and Marcie Tichenor
Simpson-McCarty Family Fund – Founded by Vi Simpson and Bill McCarty
Stuart & Anna L. Holmquest Innovative Programs for Children Fund – Founded by P. Stuart and Anna L. Holmquest
William Joseph Sturgis, Patricia Sturgis, Frank and Ruby Smith Memorial Fund – Founded by Melva Sturgis
To make a gift to one of these funds, go to the Community Foundation's Donate Now website page. Under Gift Information,  "Select Fund Name" from the drop-down menu. If you would like to establish a fund for early learning, contact Meagan Niese at meaganniese@cfbmc.org or (812) 333-9016.